HOLEŠOVICE FULL OF LIFE DISCOVER THE SURROUNDINGS RICH IN SURPRISE
Thanks to its distinctive character, Holešovice is full of life. If you think that one day is enough for a walk through the local streets, you couldn't be more mistaken. Every day you will discover new places, nooks and unusual experiences here. Stromovka, a former royal game reserve, is the largest park in Prague. Like New York's Central Park, it offers miles of walking and plenty of sports areas, but, unlike the American city, SO-HO is just a 15-minute walk away. If you are planning what to do in the evening, Holešovice offers endless opportunities for cultural and social activities. After a great dinner, you can go to the theatre or club – it's up to you. The DOX Centre for Contemporary Art is also merely a few minutes' walks from the SO-HO Residence.
Live and love Holešovice!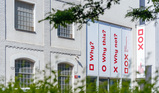 INSPIRING GALLERY

FULL OF UNPREDICTABLE EVENTS
DOX - CENTRE OF CONTEMPORARY ART
Don´t worry, this doesn´t mean that you are in the new film about Gulliver, but at home in Holešovice. The DOX Centre for Contemporary Art is a place where you can go every day. To have a cup of coffee, but also to discover what is new in the world of art, meet interesting people, and soak up the cultural atmosphere. No wonder that artists, not only from Prague but from all over Europe, have grown fond of this place.
more info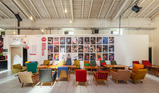 MULTIFUNCTIONAL SCENE

WITH A GALLERY, BAR AND CAFÉ
JATKA 78 – AN INDEPENDENT THEATRE STAGE
Once upon a time, the animals´ life journey ended here (Jatka means Slaughterhouse in English). Nowadays, on the contrary, it begins here for many young cultural ensembles. The principal of the La Putyka Cirk, Rosťa Novák, presents his extraordinary artistic home, which also hosts the dancers of DEKKADANCERS and the Heaven´s Gate theatre company. Come and have something good in the gallery with a bar, stop by the summer stage between the halls of the Holešovická tržnice market or visit an enchanting American woman who won´t let you sleep for a few more nights.
more info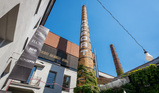 HOLEŠOVICE PORT

FULL OF DESIGN
HOLPORT – A DESIGN FACTORY
There is no flue gas flowing through the chimney of the design factory in Holešovice, but pure art! Holport filters the best of the design scene and brings it to all those interested in a unique space. Successful companies naturally meet here so that you can buy lights by Lasvit, a settee in Satin design, avant-garde art by Flos or Konsepti furniture in one place. And finally, celebrate your purchase with a drink in the family-run wine bar.
more info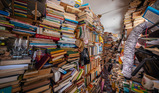 STOP FOR A SECOND

WHERE TIME HAS STOPPED TOO
A SECONDHAND BOOKSHOP IN DĚLNICKÁ STREET
Jiří Novák is perhaps the most famous antiquarian in the Czech Republic. And if not in this country, then at least in Prague. A man in his sixties with a soul and energy of at least twice as young a guy sells tens of thousands of books of all genres in his shop, covering an area of over 150 square metres – including rare book bindings that you won´t find anywhere else. Moreover, he is always happy to advise on what to start with this time.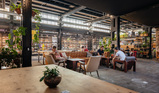 INSPIRING PLACE

FULL OF LIFE
VNITROBLOCK IN TUSAROVA STREET
It used to be a dilapidated courtyard where you would have hesitated to prop your bike against the wall. But then, the rescuers of abandoned places, whom you might know from the "Radlická kulturní sportovna" or "Kavárna, co hledá jméno", set out to save it. Thanks to their effort, Vnitroblock was created – a place for culture, gastronomic experiences and shops of Czech fashion designers. If you are attentive, you may also meet the Little Prince and his rose. So don't forget your hat and good mood!
more info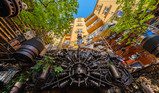 WELL, MAINSTREAM

CERTAINLY WON´T BE FOUND HERE
CROSS CLUB – THE CROSSROADS OF CULTURES, JOY AND STYLES
Pop is dead. Long live punk and rock 'n' roll! The unique Cross Club has been a top venue of Prague's club scene for many decades, and it still doesn't seem to lose drive. Where else can you listen to the stars of world music, sitting, let's say, on a bus seat? This steampunk beauty pours drinks and joy, and you will find your band on the schedule.
more info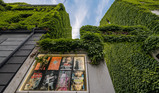 INTERCONTINENTAL AND CREATIVE

MULTIFUNCTIONAL STAGE
LA FABRIKA – THE ART SPACE IN KOMUNARDŮ STREET
La Fabrika in Holešovice will certainly not deny its industrial origins – and it does not even try to do so. This place has become number one for everyone looking for an unconventional space hosting theatre and dance shows, concerts, multimedia exhibitions or performances. But that doesn´t mean you can´t come here for a drink in the evening while a pianist makes the strings of the grand piano play and the bar smells of freshly sliced limes.
more info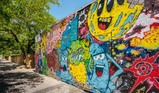 ALL THE COLOURS OF THE WORLD

ARE ON THE HOLEŠOVICE WALLS
STREET ART IS UBIQUITOUS IN HOLEŠOVICE
The theory is grey, whereas the tree of life is evergreen. And -yellow too. Even -red. As it shows literally all the colours of the world! Only a few of the Holešovice abandoned walls will remain grey forever because such walls serve as a canvas for artists whose scene is the world. You will get to love street art for its being easy and variable in time, for its courage and power to say things straight.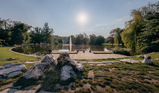 A GREAT GREEN OASIS

IN THE MIDDLE OF THE CITY
STROMOVKA - NEJVĚTŠÍ PRAŽSKÝ PARK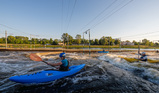 THATS RIGHT, HOLEŠOVICE

ARE ON THE OTHER BANK
YOU CAN SPORT ON WATER TOO, EVEN WHEN YOU NEED TO GO TO OTHER SIDE
At the end of 2022, the new HolKa footbridge for pedestrians and cyclists will connect Holešovice, Karlín and Štvanice. Residents of the SO-HO Rezidence will thus gain unique access to Prague's sports tennis centre', skate park and the cosmopolitan Karlín, which will never cease to surprise. And the historic city centre will be a little closer by bike again. Morning jogging to the Old Town Square – well, this is life!