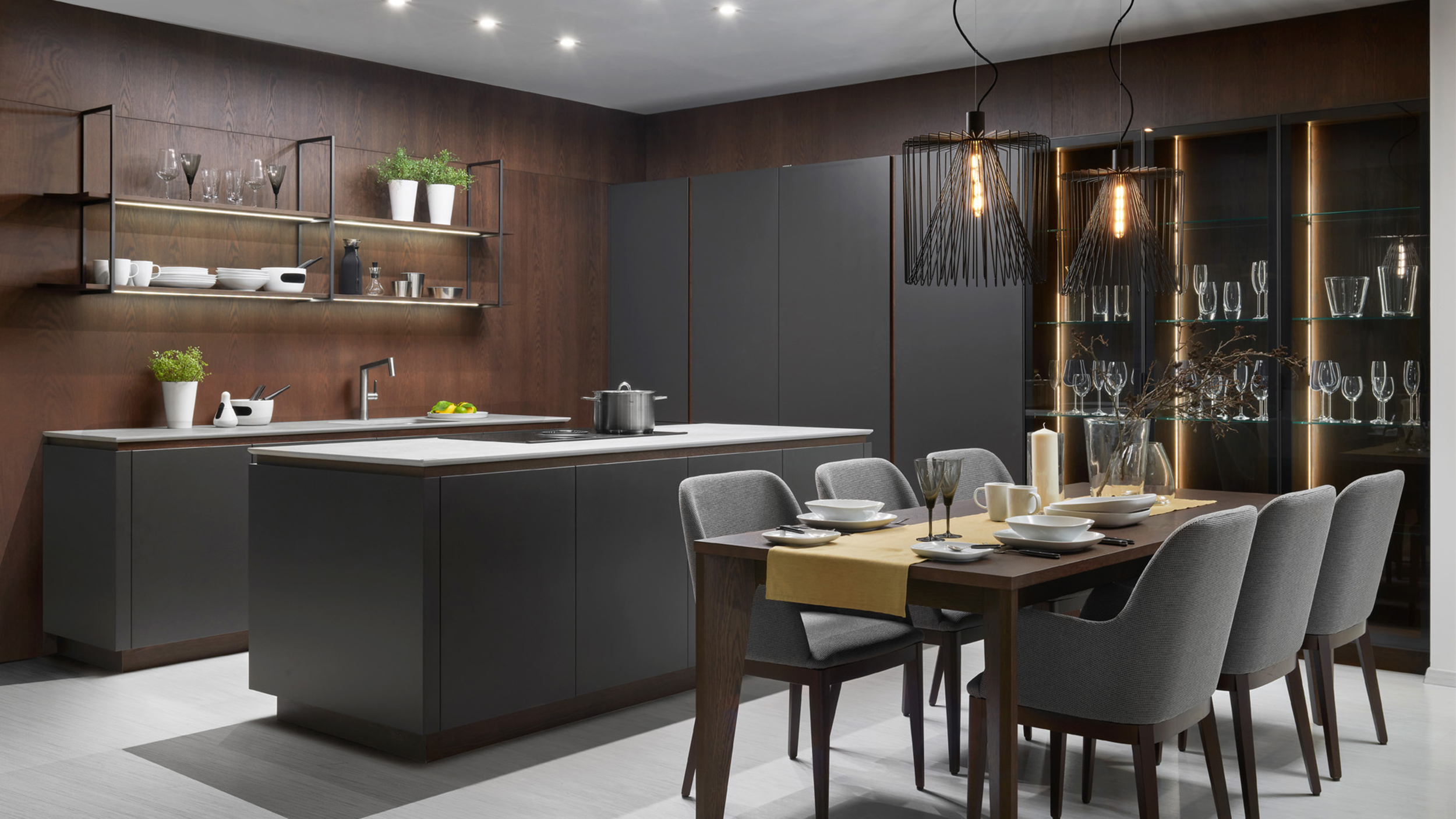 up to CZK 250,000
voucher for
the purchase
of a new kitchen
phase 1
december special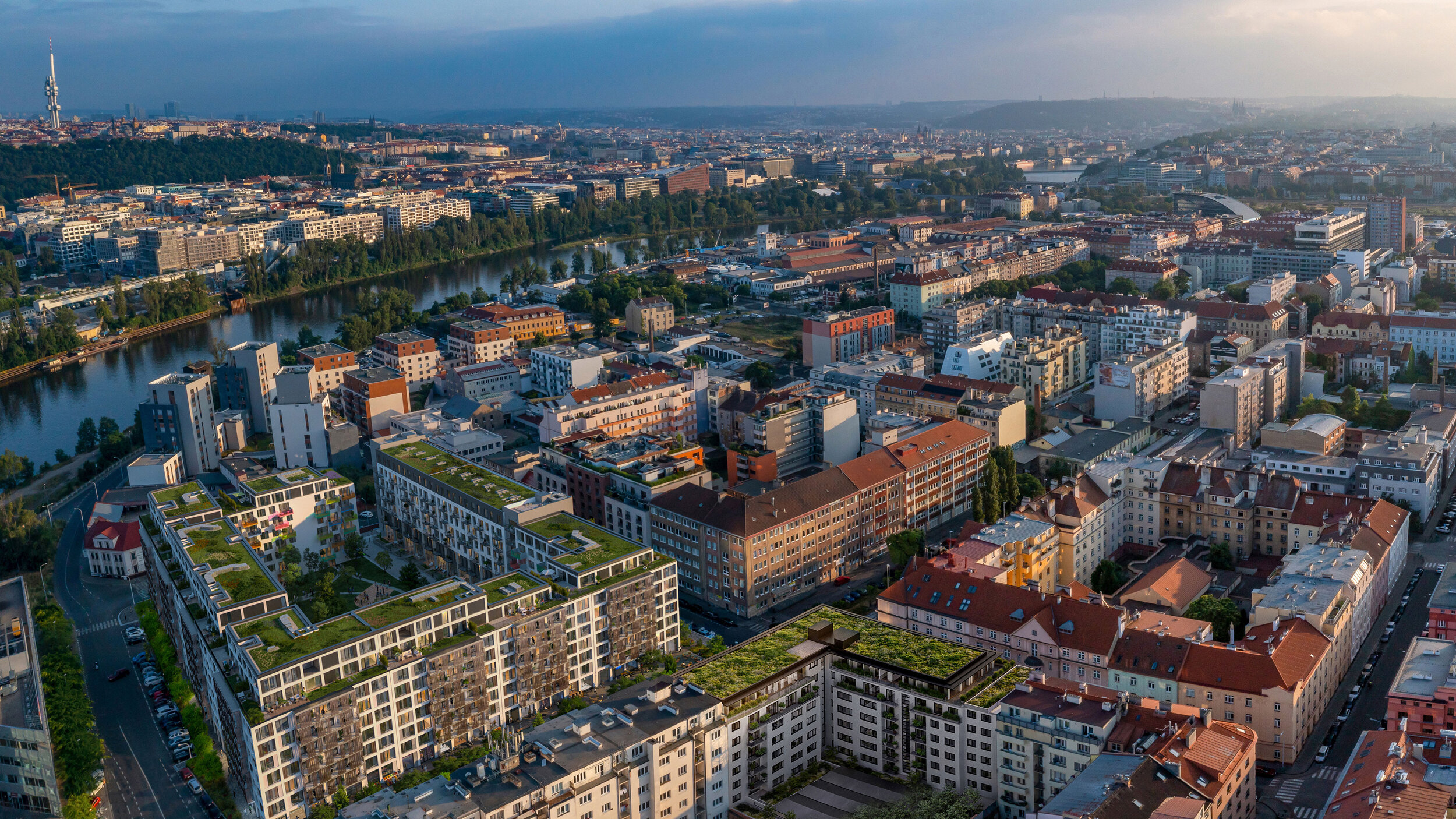 SO-HO - PRAGUE 7, HOLEŠOVICE
LIVING WITH A CHARACTER
The New York's SoHo is home to business, culture and entertainment, as well as a residential area where people from all over the world meet. London, Hong Kong and Tampa Bay also have their SoHo, and we are now bringing a unique cosmopolitan atmosphere to Prague as well.
In the heart of southern Holešovice, modern housing with the industrial character of the original Tesla Holešovice factory is being built, followed by the construction of new premium apartments including a green courtyard and an urban alley.
The SO-HO Rezidence project offers 148 flats and lofts in the first phase, ranging in layout from 1 bedroom to large duplexes of 4 bedrooms and a unique rooftop penthouse with panoramic views of Prague. The lofts on the 2nd floor provide an impressive 3.6 meters of clearance, ideal for an inserted floor and extending the living space by an extra floor. The largest representation are apartments with a layout of 1 + kk - 2 + kk suitable for own living or that can be a part of an investment portfolio. On the 6th floor there are apartments with a ceiling height of 3 meters, views of Vítkov and during the summer months you will enjoy the air conditioning in the apartment.
Set your creativity free and be a part of the uniqueness of the SO-HO Rezidence project!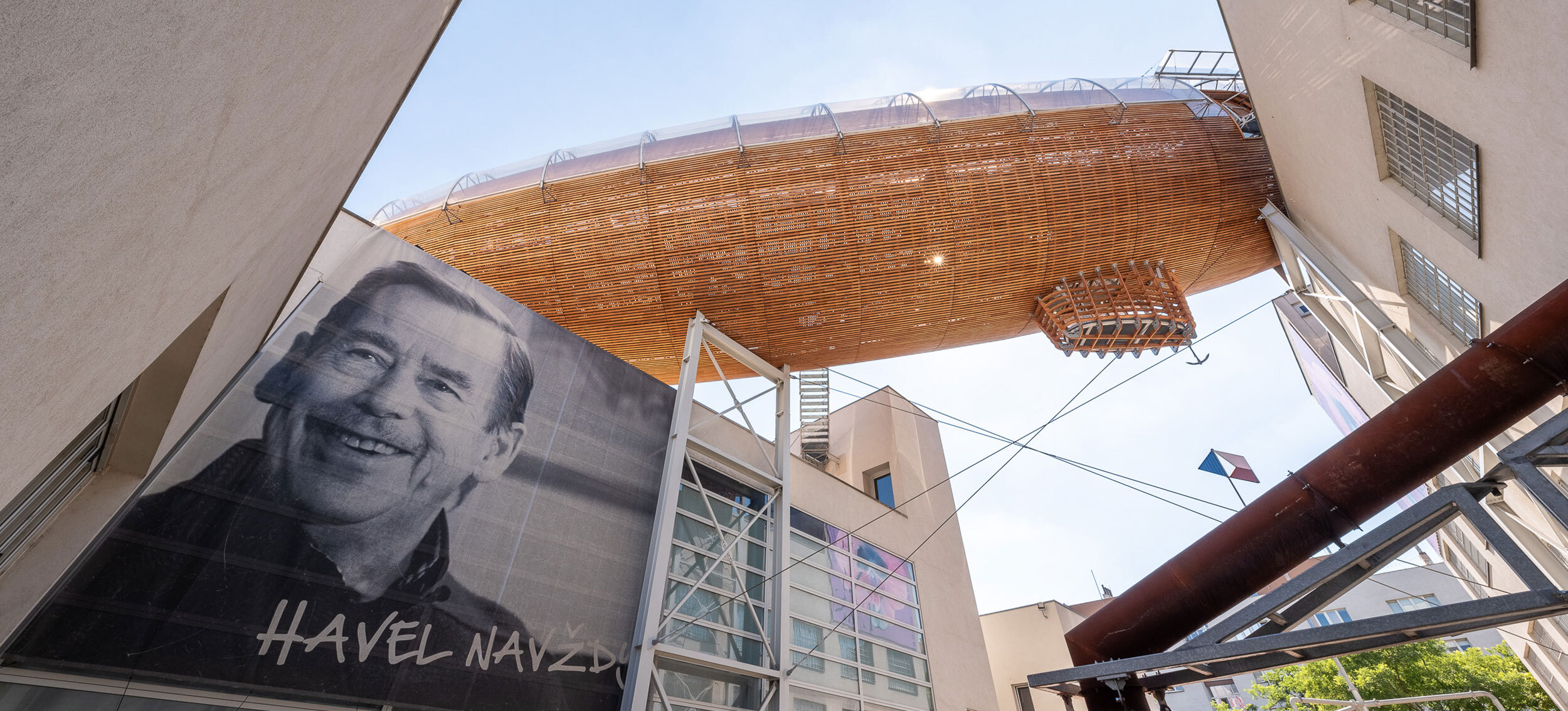 LIVE AND LOVE

CONTEMPORARY ART
DOX – Centre for Contemporary Art
Whenever you are free for a while, don´t forget to visit DOX – Centre for Contemporary Art, which is located just a few minutes´ walk from SO-HO, the centre of contemporary housing, emerging in Holešovice.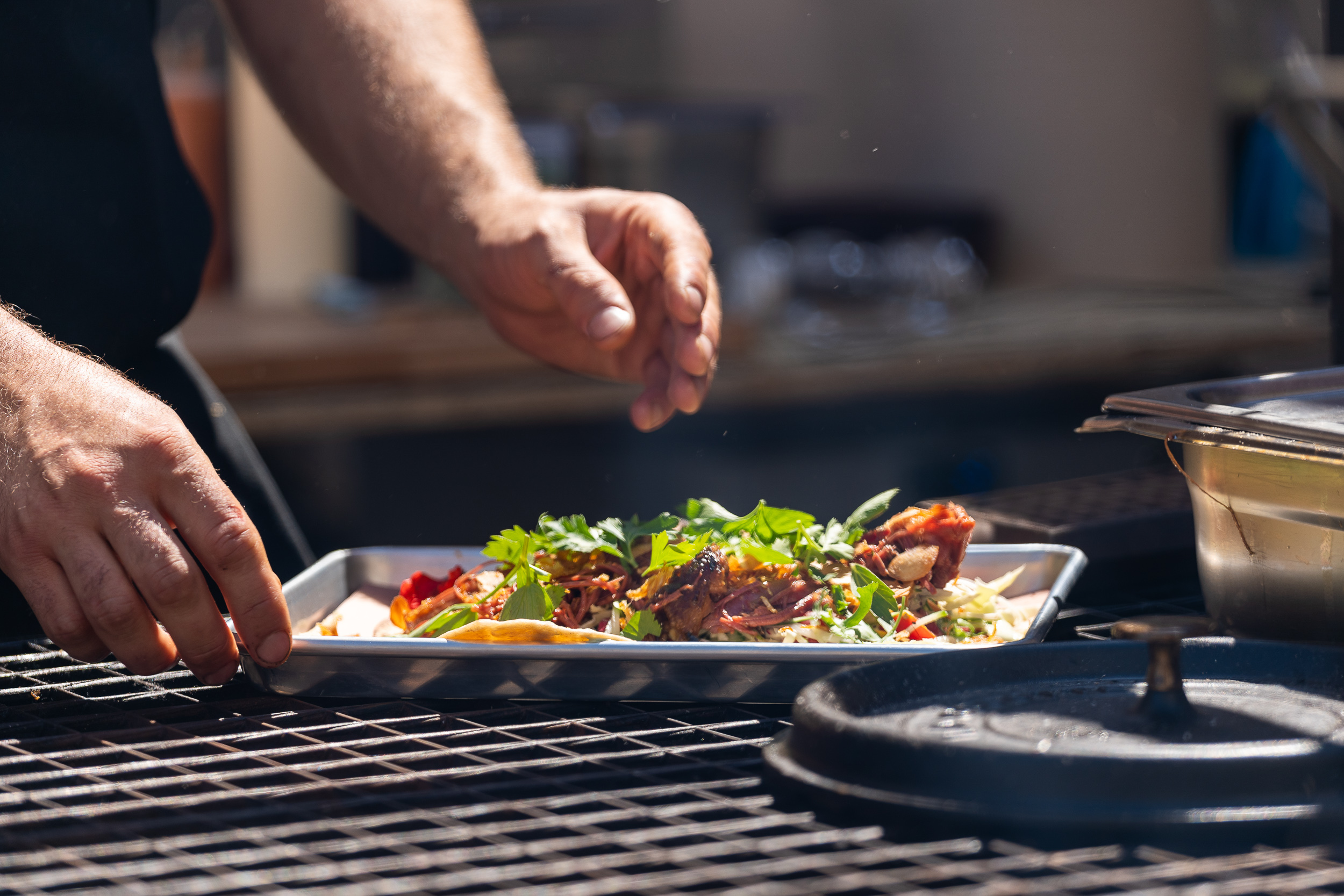 LIVE AND LOVE

STREETFOOD
ENJOY YOUR MEAL!
Do you like it hot or sweet? Or something in between? The range of tastes knows no bounds, as does the array of local bistros, cafés, street food joints and selected restaurants. Whether you fancy anything, e.g. what you want to cook for yourself... visit, for instance, Holešovická tržnice (Holešovice Market), where you will find everything from SaSaZu and Asian fusion to fresh zucchini for your frying pan.
LIVE AND LOVE

YOUR NEIGHBOURS
Holesovice and Karlín will be connected ...
According to the latest information, the construction of the HolKa footbridge between Holešovice and Karlín will begin as early as in the autumn of 2021. The completion is scheduled for the end of 2022. The HolKa footbridge will connect Prague 7 and Prague 8, and thus not only enable beautiful walks in the surrounding area, but also shorten the way to work, friends, entertainment, or shopping for a lot of people.
LIVE AND LOVE

THEATRE
La Fabrika
150 metres along Dělnická Street, the second right to Komunardů Street, a few more metres – and stop at the ivy-covered door. Here, you will find the entrance to the La Fabrika cultural space, valued for its creativity and contemporary art programme. Among the actors of La Fabrika, we can mention Tatiana Vilhelmová, Anna Polívková, Martha Issová, Vojtěch Dyk, Jakub Prachař or various creative ensembles.
LIVE AND LOVE

STREET ART
HOLEŠOVICE MURAL ART
Take a walk through Holešovice and draw positive energy not only from the ubiquitous greenery, from the river and life, but also from the street art that will appeal to you or inspire you. Here: Komunardů Street, author: Michal Škapa aka Tron.
LIVE AND LOVE

WATER
ROMANTIC VLTAVA RIVER
Unlike Letná, the eastern part of Holešovice is largely surrounded by the River Vltava. Here, you will find a harbour, quiet and romantic bays of local docks or wild water on the other side of the river, where you can meet Czech national canoeists too. Thanks to the anti-flood system, which is also built for millennial water, you don´t have to worry. Enjoy the Vltava and its atmosphere.
LIVE AND LOVE

INSPIRATION
THE LEGENDARY VNITROBLOCK (BACKYARD)
There are few places in the whole of Prague that inspire people with their freedom, independence, and atmosphere to such an extent as the creative and free-thinking CrossCafe or alternative Vnitroblock ("Vnitroblok" means "Courtyard" in English), full of interesting nooks and bistros offering you a sit-down meal or drink alone or with your friends, rich in cultural experiences... This is a place of moments lived to the full where time has stopped, and you are enjoying it.
LIVE AND LOVE

HEALTHY LIFE
A GOOD MEAL CAN MAKE YOUR DAY… ESPECIALLY WHEN IT CAN BE HEALTHY TOO
As our mothers used to say, the way to a man´s heart is through his stomach. However, we know that you can´t do without health either, and health has a lot to do with the stomach and food. You can buy the healthiest foodstuffs not only at the local butcher´s and groceries but also at the Holešovická tržnice (Holešovice Market), where farmers´ markets are held.
LIVE AND LOVE

SO-HO
SO-HO REZIDENCE HOLEŠOVICE
The SO-HO Rezidence Holešovice is coming with start-up apartments for singles or young families and larger family apartments for those who want to live in a place with a character. With its concept of urban regeneration, SO-HO offers apartments created on the industrial basis of the former Tesla factory and in a new building that ends the urban block with a quiet green atrium, being so typical of Holešovice.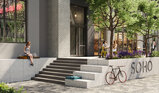 LIVE AND LOVE

EVERY MOMENT
LIVING PARTER
A promenade will be built on the ground floor of the first phase of the project. A new Form Factory fitness and wellness centre concept is opening on 1,250 sqm of retail space and the popular Naše Tostárna will move into the space.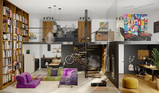 SOMETIMES ONE FLOOR IS

NOT ENOUGH
space without borders
Whether you decide to live in a smaller 2+kitchenette apartment or in a two-storey duplex, which, thanks to a clear height of 4.6 metres, will allow you to expand the apartment by another floor, freedom of space is the fundamental driving idea at SO-HO.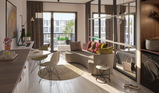 apartments for

life
EVERY SQUARE METRE USED
All apartments have been thoughtfully designed to provide maximum value and functional comfort for their residents. Inspired by lofts in New York's SoHo, we minimize hallways and maximize living spaces. Enjoy generosity even in smaller 1 - 2 bedroom apartments. Life is not about four walls. Life is about you!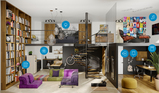 Your Smart Home

at home :-)
Smart home standards
LOXONE automation in the SO-HO Residence will ensure thermal comfort and energy bill under control. You can choose from 3 packages, from installation preparation to functions that ensure full control of the heating, shading and cooling of your apartment.
SMART HOME PACKAGES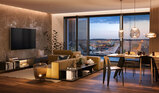 VIEW CAN ALSO

MATTER
WITH A VIEW WHICH…
Some of the SO-HO project apartments also provide beautiful views of the Prague skyline, including the Prague Castle, the Old Town Square, the Žižkov Transmitter, the Vltava River or the surrounding horizon of Holešovice. Don't wait or hesitate long, these apartments are sold among the first. Period.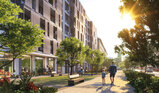 STREET IS PART OF

HOLEŠOVICE
LIKE ON THE HIGH LINE
We will create an urban avenue on Dělnická Street with mature trees, flower plantings, benches, local shops and services. A safe pedestrian zone and a quiet strip with greenery will provide a visual and acoustic screen for pleasant living. The parterre of the SO-HO Residence creates an interesting public space for everyday life. Its concept should be reminiscent of New York's High Line with space for dining, shopping and services.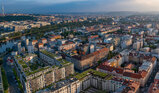 METROPOLITAN LOCATION

with perfect accessibility
Dělnická Street, Prague 7 - Holešovice
SO-HO Residence is located on the site of the former Tesla industrial complex in Dělnická Street, near the Maniny tram stop, a short walk from the Libeň Bridge and the Vltava River. Already excellent accessibility by car and public transport is complemented by the pedestrian Štvanická footbridge (HolKa), which connected Holešovice with nearby Karlín.
google map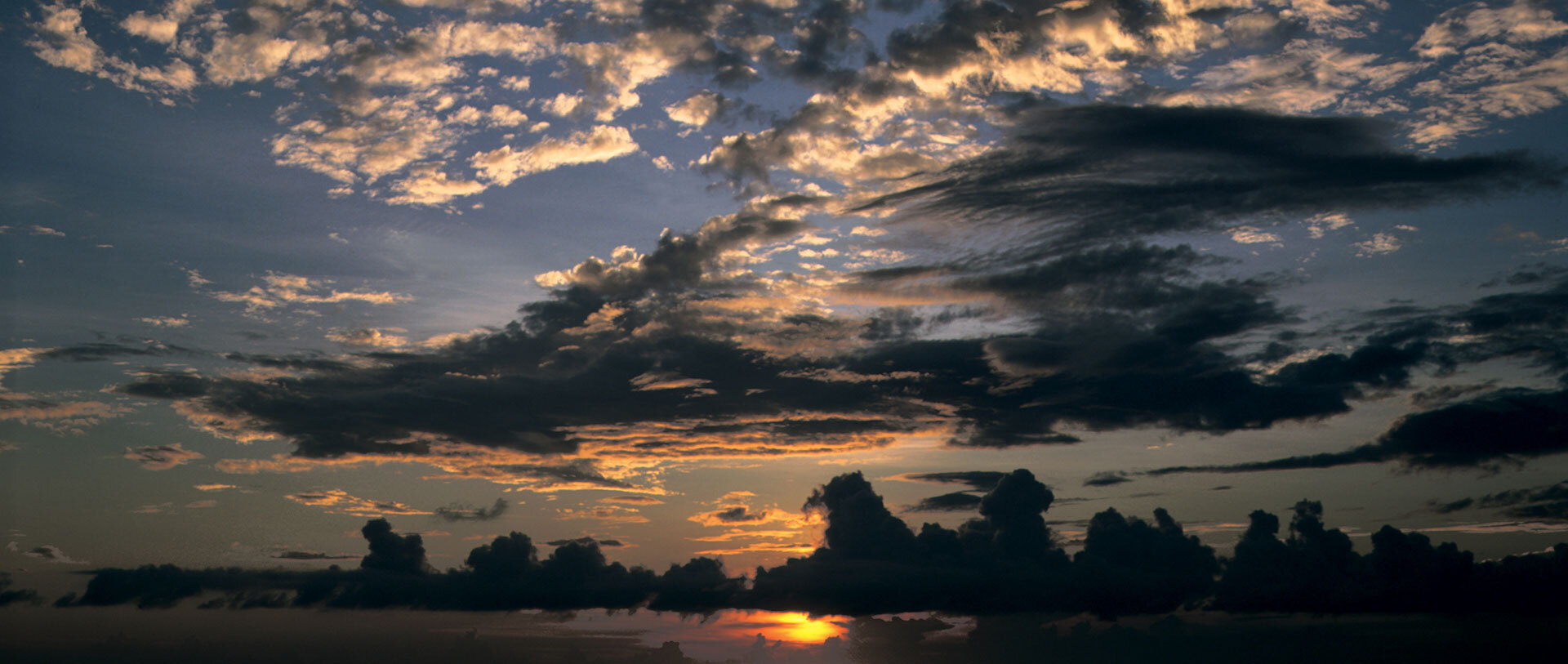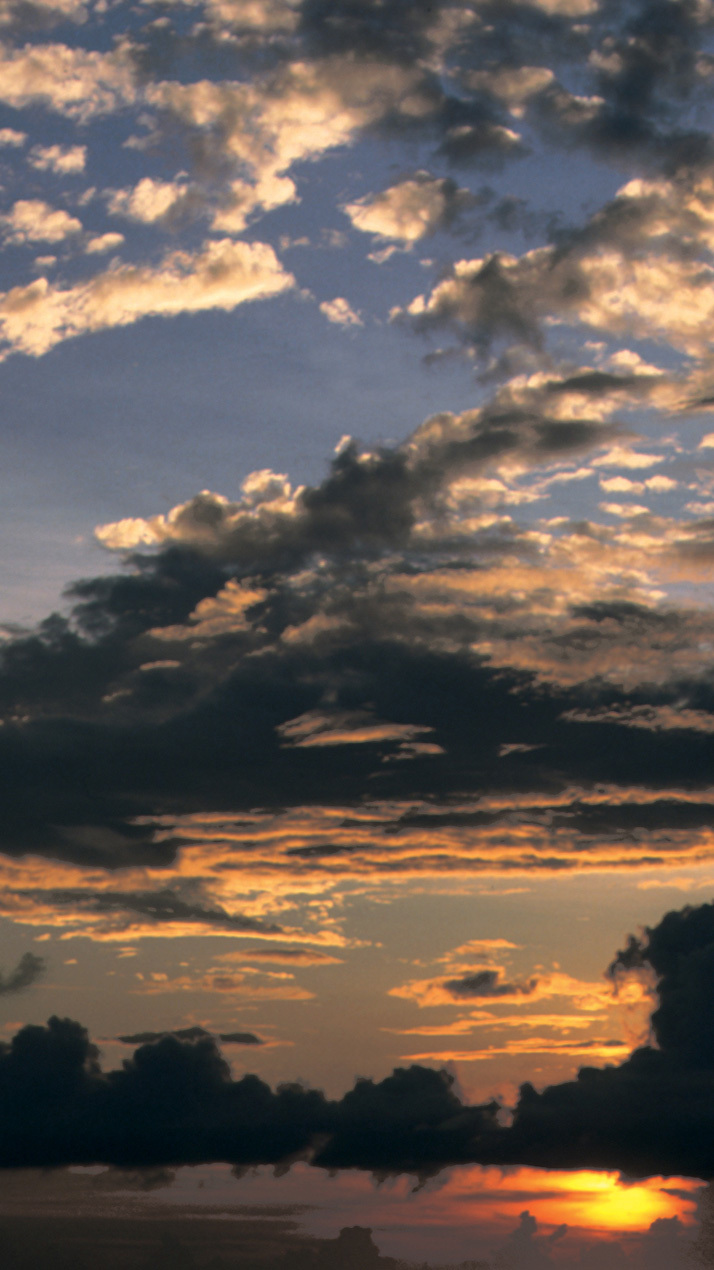 live and love holešovice!